100% Royalty-Free!
Privacy Guarantee

---
What We Offer


Platinum Audiolab cooks up all sorts of samples and loops into finely tuned, pre-mapped, instantly loadable production kits. Our fast download server can serve you a compressed 500mb zip file in minutes over a highspeed connection. We also offer mailed CD's almost anywhere in the world, all for reasonable prices affordable across all budgets. Take a listen to our demos to get a taste of our Platinum Quality! And take a look around our sample & loop browser to find the exact sound library you are looking for.
Instant Downloads


Almost all of our products allow you to choose an instant download delivery as an option. That means you don't have to worry about paying extra for shipping, import taxes, or packaging. What you get is all of the contents found on the disk, with documentation, sent to you instantly over a blazing-fast download server.
100% Royalty-FREE


There's nothing hidden behind long, boring documentation. We're pretty straight-forward on our policy. When you purchase any of our libraries, you are entitled to 100% Royalty - FREE use in your commercial and personal compositions as per our licensing agreement. Hooray for simplicity!
Quick Studio Tips


Having trouble getting a good vocal take? The four most common issues are: distance, projection, room character and ambient noise. Distance: the closer you are to the mic, the greater the emphasis on bass frequencies. Always finding yourself cutting the lo-end and trying to de-muddify your takes? Try stepping back atleast 5 inches from the mic. Projection: if your friends call you 'mumbles' its because you're getting vocal takes rivaling Shy-Ronnie... Speak Up! Room: reverb and room character can be added during mixing. Move the mic atleast 10 feet away from the walls in all directions. If possible, dampen the walls by hanging soft fabrics. Noise: turn off all unnecessary electronics (yes, that means your fridge as well). You may not notice the noise because you're used to it, but it'll show in your recordings.
Testimonials


Platinum ya'll have been great on the support. Thanks for the help and of course the great sounds!

-- K. White
Burning Instructions For Our Akai S1000 / Universal ISOS
UPDATE: A new method is available for burning S1000 disks using the free burning PC app called IMGBurn. All that is required is to rename the .img file to .iso and select the option in IMGBurn that allows you to burn an image to disk. You can download IMGBurn here. If you cannot run IMGBurn, or prefer to use other burning software, please refer to the original instructions below.
STEP 1 - UnRAR: After downloading the .zip/.rar file, uncompress it using WINRAR, 7-Zip (recommended), or a similar program.
STEP 2 - Launch CD Burning App: Launch your favorite burning program. The steps given below are done using Alcohol 120%. The steps are similar with other burning software, however, we recommend using Alcohol or Nero. A free download can be found by clicking here.
STEP 3 - Browse for Image: Click on "Image Burning Wizard" and then "Browse". You need to first make the .img file visible to the burning program, so where it shows "file types" select "All Files *.*" Search for the folder containing the .img file you extracted from the rar file and double-click it.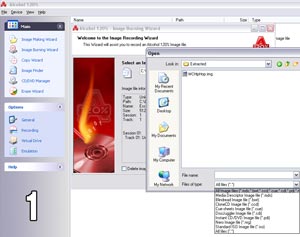 STEP 4 - Set the Block Size: After selecting the .img file and clicking 'next,' you will need to click the "Block Size" dropdown menu and change it to 2048, and then click OK.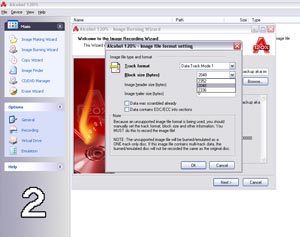 STEP 5 - Set the Burn Speed and Start: And finally, set the burn-speed to a low value (4x-24x gives best results) and then click on START. Once the burning is done, you're all set! You can load the disk into any scsi-connected CD-ROM drive connected to your sampler, or you can load it into your computer's CD-ROM drive for use within your software-based sampler.